An all-in-one suite of flexible nonprofit human resources software solutions

Monitor labor costs with real-time labor allocation and time capture
Easily access and track information by storing all records in one central employee database
Simplify staff and volunteer certification and training management to meet compliance requirements
Access detailed labor costs information by department/project for easier grant reporting
Create comprehensive and complete reports that satisfy your board & donors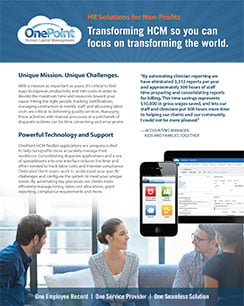 FEATURED RESOURCE
Non-profit HR solution guide
Our unified HCM solution provides a complete workforce management platform that helps our non-profit partners allocate labor, optimize productivity, control costs and maintain grant reports in one platform.
DOWNLOAD
OnePoint Volunteer Management Solutions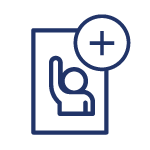 Streamline Volunteer Management and Scheduling with OnePoint
Many Non Profit Organizations rely on volunteers, but managing your volunteers in spreadsheets or in a duplicate database is cumbersome and often results in errors and inaccurate information.
OnePoint HCM flexible and configurable HCM solution presents the opportunity to manage volunteer data separately, but in the same system that you manage your employees, simply by creating a "Volunteer Profile" and a completely unique experience for your volunteers.
Watch how you can track volunteer information like availability, shift preferences, skill & certifications which can help when scheduling volunteers for events. Create self-service workflows and checklists so volunteers can submit information like shirt size, drivers license numbers, and even health information.
OnePoint HCM Volunteer Management Solutions
Open Enrollment Overview

Benefits Enrollment with OnePoint streamlines the enrollment process for your company and makes it easy for employees, eliminates paper forms and manual processes, and gets you back to the business of your business in no time.

Learn More

Employee Engagement Trends Report

How can Non-Profits engage and inspire a multi-generational and multicultural workforce with a wide range of values, expectations, and needs? Top employers are harnessing human capital management solutions to create compelling work environments that make employees feel valued and treated fairly.

Learn More

Case Study: Kids and Families Together

Before coming to OnePoint, non-profit organization Kids and Families Together struggled with time and efficiency issues with payroll, time and labor management and benefits administration. Using disparate HR systems to track time, payroll and grant funds, it took their staff three days to complete payroll. With OnePoint's help they were able to streamline and automate those processes, cutting down on cost of operations.

Learn More
"By automating clinician reporting we have eliminated 3,312 reports per year and approximately 500 hours of staff time preparing and consolidating reports for billing. This time savings represents $10,000 in gross wages saved, and lets our staff and clinicians put 500 hours more time to helping our clients and our community. I could not be more pleased."
—Accounting Manager, Non-Profit Industry
Read Case Study
"Moving our employee credential tracking out of a spreadsheet has saved my team countless hours and reduced my anxiety about compliance."
—Executive Director, Healthcare Industry
"We use OnePoint for our onboarding process and I love how much time I have saved on the process. I also love that I can download the documents from the employee file. Thank you so much for creating a system that is user-friendly and so easy to navigate."
–Human Resources Manager, Non Profit Organization
Discover the power of a single
platform solution.
Contact our team about ideas to unify your workforce.
Fill out the form or call 866.938.5835 to see how our human capital management solutions can create an efficient, unified HR infrastructure for your organization.