Seamless employee attestation & management solutions

Our configurable employee attestation solutions are a powerful way to minimize wage and hour claims. Custom questionnaires on time sheets or the time clocks capture your employee's confirmation for meal and rest breaks, hours worked, time card approval, injuries and more when they clock out for the day.

OnePoint gives managers the tools to improve employee monitoring to reduce wage and hour compliance risk for state and local labor laws, collective bargaining agreements, and organization-specific policies. Employee attestation tools integrate seamlessly with our automated time and labor management solution and your existing data collection source.
Increase productivity with self-service approval tools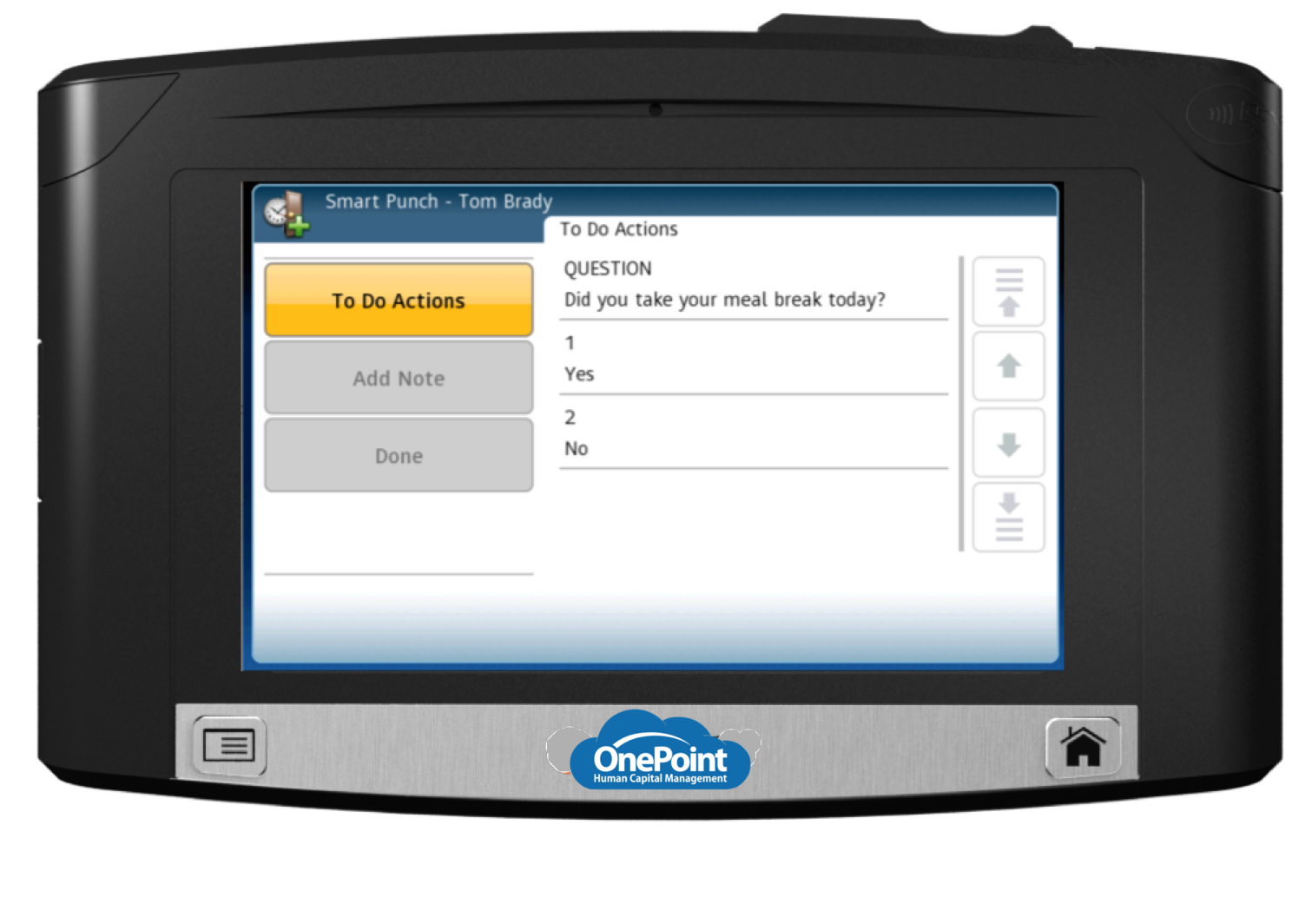 Certify meal and rest breaks
Meal and rest breaks are a common wage and hour complaint comes from meal and rest breaks. Employee attestation & management is critical for minimizing compliance risk because employees to attest whether they have taken mandated meal or rest breaks.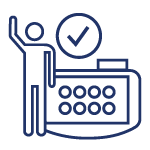 Customize attestation questions
Easily customizable attestation surveys to capture employee responses for any task, policy or security measure. Set up end-of-shift questions for injury, meal breaks, checklist attestation tasks and security reminders. Punch-In attestation can be used for health and wellness checks to protect against health risks like COVID-19.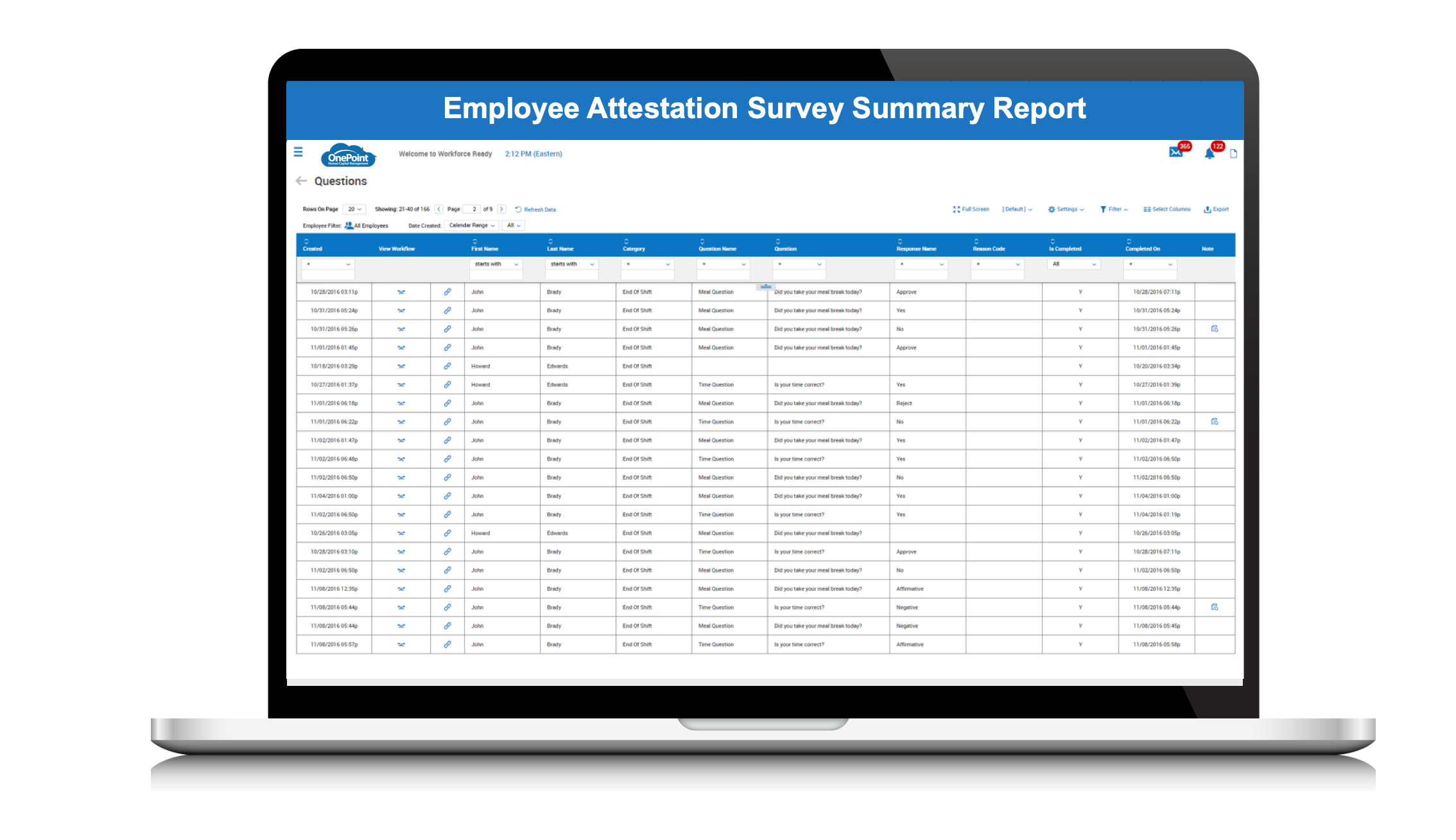 Wage & Hour Compliance
Attestation tools offer robust reporting to help managers monitor employee attestation, identify trends that warrant further examination, and demonstrate compliance in the case of a lawsuit or DOL audit.
Manage wage and hour compliance with full audit report

Employee attestation & management software protects the organization by requiring employees to attest to required activities. These responses help managers monitor compliance, identify trends that warrant further examination, and demonstrate historical responses for audit purposes.

Capture employee corroboration of meal and rest breaks
Simplify employee attestation & management of hours worked
Self-service to access, review, and approve or reject timecards
Notifications for managers to monitor employee status
Proactively manage compliance with robust data
Our Clients Are Impressed

"I love this HR solution and the entire OnePoint team. You have no idea how this system has changed the way I do my job. I think I'm OnePoint's biggest fan!"
–Human Resources Manager, Auto Dealership
"We use OnePoint for our onboarding process and I love how much time I have saved on the process. I also love that I can download the documents from the employee file. Thank you so much for creating a system that is user-friendly and so easy to navigate."
–Human Resources Manager, Non Profit Organization

"So happy to have made the switch from ADP to OnePoint. They all truly excel in customer service. Everything is really easy to navigate and help is a phone call away. Working with OnePoint just gets better and better each year."
–Owner, Veterinary Hospital & Clinic
Featured Resource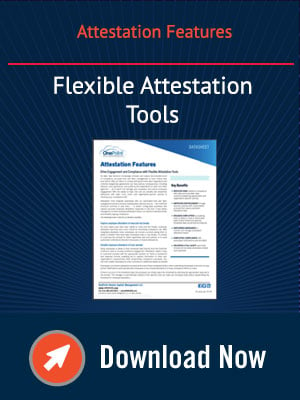 Attestation Features
Drive Engagement and Compliance with Flexible Attestation Tools
As labor laws become increasingly complex and require documented proof of compliance, accurate time and labor management is more critical than ever before.
Discover the power of a single
platform solution.
Whether you are considering our services or are already a OnePoint client, contact us today. We'll discuss your current human capital management processes and show you how a unified solution can maximize your HCM efficiency and improve your bottom line.