One solution for all your workforce management needs

Quickly generate and modify schedules that match demand with simple drag-and-drop tools
Reveal opportunities to save money and increase productivity with real-time reporting and comprehensive analytics
Adhere to federal, state and local labor laws by using automated tools that help protect your business from compliance violations
Empower employees to access their schedules, swap shifts or request time off from any web-enabled device
Streamline time & attendance management with at-a-glance visibility into accrued pay, hours worked, time off, absences and more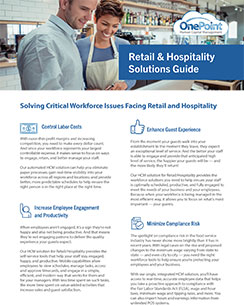 FEATURED RESOURCE
OnePoint HCM Retail and Hospitality Solutions Guide
Our unified HCM solution provides a complete retail workforce management platform that helps our partners boost productivity, optimize schedules, and staff engagement to deliver the best customer experience.
DOWNLOAD
Engaging The Hourly Workforce

Our ebook reviews the distinct needs of hourly employees and how our HCM solution provides flexible and mobile-ready HCM solutions empower hourly workers get to work, be productive, engage with an organization, and ultimately succeed.

Learn More

Success Story: Red and White Fleet

Red and White Fleet's HR staff and managers were bogged down by paper-based time keeping processes that were overly time consuming and error prone. OnePoint helped implement a single platform HCM to automate their payroll processes.

Learn More

Audit Time Keeping Systems to avoid wage and hour time bombs

Four areas employers can audit their automated timekeeping systems and policies to determine their risk for wage-hour compliance.

Learn More
"As a small business, with all the laws and policies we must follow, the most evident ROI from implementing OnePoint is having all employee and payroll data in one place. We need a system like OnePoint to stay organized and set up the company for success. I know that we are far better off today than we were before we started using OnePoint."
–HR Director, Hospitality Industry
Read Case Study

"I love this HR solution and the entire OnePoint team. You have no idea how this system has changed the way I do my job. I think I'm OnePoint's biggest fan!"
–Human Resources Manager, Auto Dealership

"So happy to have made the switch from ADP to OnePoint. They all truly excel in customer service. Everything is really easy to navigate and help is a phone call away. Working with OnePoint just gets better and better each year."
–Owner, Veterinary Hospital & Clinic
Discover the power of a single
platform solution.
Contact our team about ideas to unify your workforce.
Fill out the form or call 866.938.5835 to see how our human capital management solutions can create an efficient, unified HR infrastructure for your organization.