Cloud HCM that provides seamless Google Workspace integration
OnePoint HCM integration with Google Workspace (formerly G Suite) connects workforce management processes with the familiar Google tools your employees use everyday. From the hiring process through onboarding and beyond, our HCM's integration with G Suite provides new ways to gain efficiencies throughout the employment lifecycle. Embed Google Maps in your job postings, automate user set ups, synch workers schedules with Google calendars and more.
Capabilities

Elevate the capabilities of your cloud HCM platform by seamlessly sharing information between OnePoint and Google Workspace integrations.

Access historical files at any time by exporting data files directly to Google Drive
Provide backup storage for key reports & exported files
Create a secure alternative to share data and routine reports with your organization outside of OnePoint's system
Utilize a secure file structure for records of external integration files
Easily retain information via seamless data dumps from external HR files

Streamline Communication
Google Workspace is used by millions of organizations to improve data management and collaboration. Unifying OnePoint's solution with Google Workspace applications enables employees, managers and administrators to access secure tools and data for day-to-day functions. These primary workforce systems increase efficiency across your organization because all data is seamlessly shared with your HCM solution. Sync your OnePoint calendar in real time with individual or shared Google Calendars. Keep important reports and sensitive data secure by saving to your Google Drive and enable access based on your pre-set sharing rules.

Boost Engagement
Use Google Forms to easily capture employee data through emails or links, then instantly import updated information directly from Google Forms into your OnePoint solution. Enhance job listings by embedding a Google Map so employees can calculate commute times and hiring managers can review local talent pools.

Increase Productivity
Eliminate the need to email reports and spreadsheets or convert file formats. Easily share information between OnePoint's Excel-native spreadsheets and your Google Sheets account. Sync Google Maps with employee punches to reduce potential abuse by mobile workers. Post schedules to your employees' Google Calendars in real time. Seamless HCM integration with OnePoint empowers your workforce to create, communicate, and collaborate using the tools they rely on every day.

Strengthen Data Secure with Google Authenticator
OnePoint integrates easily with Google Authenticator to create smart barriers between employee data and the world. Two-step verification adds an additional layer of security to ensure that sensitive employee data and passwords are available to those who require access—but never exposed to unauthorized individuals. Once your OnePoint Customer Service Representative modifies a minor setting on your platform, you can install Google Authenticator on your Apple or Android device and begin gaining the benefits of two-factor authentication immediately.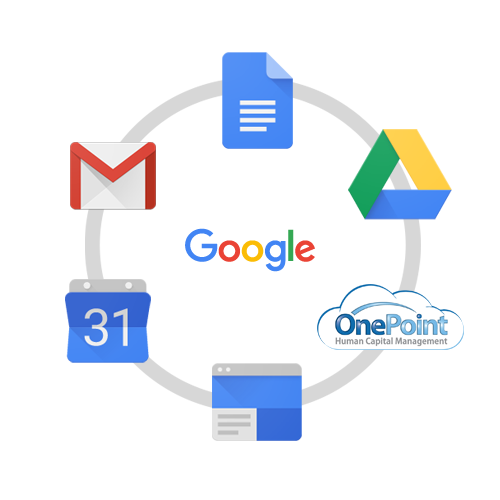 Google Workspace Integration Overview
OnePoint HCM seamlessly integrates with the Google tools giving our partners one more way to boost productivity, increase employee engagement, and improve workplace efficiency. Learn how Google and OnePoint can enhance your employee experience, streamline collaboration, and facilitate reporting through the secure and familiar Google tools and mobile devices your employees rely on to run your business.
Contact our team about ideas to unify your workforce.
Fill out the form or call 866.938.5835 to see how our human capital management solutions can create an efficient, unified HR infrastructure for your organization.