Learn more about the power of using ONE platform.
Browse our convenient library of cheat sheets, product information sheets and service descriptions that will help you streamline your HR management process and do your job more efficiently.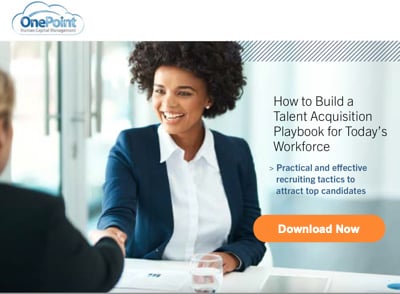 FEATURED RESOURCE
Building an Effective Talent Acquisition Strategy Playbook
Our ebook provides practical tips and new ways HCM technology creates a centralized hub of talent and hiring data. Busy HR leaders need technology and tools to automate and streamline the hiring and onboarding process to compete for top employees. Learn the 5 key components to build a modern and multi-channel recruitment strategy and how OnePoint will help execute your plan AND keep up with your other strategic priorities.
download
Discover the power of a single
platform solution.
Whether you are considering our services or are already a OnePoint client, contact us today. We'll discuss your current human capital management processes and show you how a unified solution can maximize your HCM efficiency and improve your bottom line.