Build Efficient Employee Schedules

Say goodbye to complicated spreadsheets and ensure your shifts are always covered. Straightforward drag-and-drop staff scheduling tools make it easy to compare scheduling options. Instant change implementation eliminates the need to update multiple databases, increasing the accuracy of your time and labor management.

Manager & employee self-service functions
Pre-build employee shift plans
Preview shift workload summary
Color-coded notifications

Empower Employees

Scheduling self service software features allow employees to access their schedules anytime on any device. Shift and leave preferences can be configured in scheduling rules to provide consistency and balance while limiting understaffed shifts and excessive overtime. Enhanced mobile features allow employees to request shift swaps and request shift coverage from eligible employees through their self service portal. Give employees flexibility to adjust their workload without compromising staffing levels or skill requirements.

Post schedules in self service portal
Employees can see open shifts and request shift swaps via any device
Rules engine prevents unauthorized coverage and controls overtime costs OnePoint HCM releases new employee self-service functionality for our Advanced Scheduler module.
Empower employees to post request for coverage, access the open shifts dashboard, and swap shifts automatically with approved team members through any device.
Control Labor Costs

Our employee scheduling software solution provides the automation and high-quality information needed to create accurate schedules that align staffing requirements with budget and demand. Managers spend less man hours creating and adjusting schedules. Labor cost estimation tools and rules engine minimizes overstaffing and tracks labor hours to budgets. Automated alerts monitor when employee schedules will exceed budget limits so adjustments can be made to keep labor costs in check.

Optimize Performance

The robust reporting capabilities make it simple to look at past staff schedules, measure their effectiveness, and apply lessons learned to make better scheduling decisions. View coverage maps to quickly pinpoint open shifts that still need to be filled. Examine budget versus actual reports to identify areas of overspend. Even compare preliminary and final employee schedule versions to see how many changes were required to effectively align staffing with budget and demand.

Real-time employee scheduling dashboards
Color-coded shifts and coverage reports
Configurable job costing, custom analytics & report-setting
Use reports to drill down on specific information to drive decision-making
Advanced Employee Scheduling Solution Guide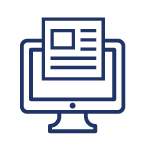 One tool to align labor with demand and adhere to internal and regulatory scheduling policies.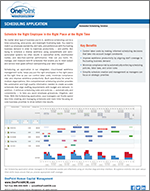 OnePoint advanced employee scheduling uses employee profiles and rules based configurations that ensure consistent coverage, fill shifts efficiently, or measure schedule effectiveness.
Download Now
Our Clients Are Impressed
"We are very happy we made the change from ADP. In my 25+ years of experience with implementations, our implementation with one point was the smoothest I've ever experienced. We pulled off our very first payroll with no issues – amazing! Our payroll is very complicated, with layered job costing for grants, admin and various medical organizations that we bill based on medical staff hours. Our staff, both in payroll/HR and in general is incredibly happy with the system and how user-friendly it is."
–HR Director, Non Profit Healthcare

"So happy to have made the switch from ADP to OnePoint. They all truly excel in customer service. Everything is really easy to navigate and help is a phone call away. Working with OnePoint just gets better and better each year."
–Owner, Veterinary Hospital & Clinic
"Switching from Paychex to OnePoint for our Payroll and HRIS needs was a great strategic decision. It is clearly a much better system. Having a positive working relationship with our HRIS/Payroll vendor is critical and right now we have the best!"
– HR Director, Healthcare Industry
Discover the power of a single
platform solution.
Whether you are considering our services or are already a OnePoint client, contact us today. We'll discuss your current human capital management processes and show you how a unified solution can maximize your HCM efficiency and improve your bottom line.