Streamline human resources in healthcare with a unified solution

Reduce costs, optimize productivity and improve the patient experience by scheduling employees to meet patient demand
Automated self service for employees and managers to capture and approve time and attendance information
Manage scheduling preferences and staff absences to effectively match patient demand with employee availability and skills
Leverage real-time workforce analytics to measure performance against goals and quickly identify areas for improvement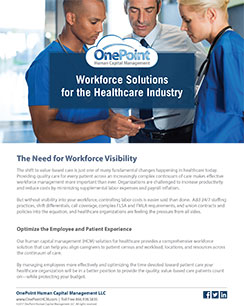 FEATURED RESOURCE
Healthcare solutions guide
Our unified HR software solution provides a complete workforce management platform that helps our healthcare partners manage costs, optimize productivity, and boost staff engagement across the continuum of care.
DOWNLOAD
Workforce Automation Benefits For Healthcare

Health systems that focus on improving workforce flexibility and driving employee engagement are more likely to retain a committed, high performing workforce and provide a better overall patient experience.

Learn More

Hours Per Patient Day Staffing Metric

Healthcare organizations across the continuum are challenged to increase productivity AND reduce costs while maintaining proper staff levels to meet patient needs and compliance requirements.

Learn More

Solutions for Post Acute Care and Senior Living

As baby boomers age, the Post Acute and Senior Living industry is facing unprecedented demand. In the short term, the number of Americans 65 and over will increase about 36% to about 65 million by 2025.

Learn More
OnePoint Boosts Healthcare Offering with Relias LMS Integration
OnePoint HCM's game-changing Relias LMS integration automates the way HR and training departments assign training to staff and track training for performance and compliance purposes in the healthcare industry.
"Being a federally qualified healthcare facility, we need to run numerous reports, and the OnePoint system makes it very easy. I especially like the quality customer service we get when questions do come up – knowledgeable staff and no long wait times. The system allows us to do almost everything we've asked, from customizing managers, to cost coding labor to each site, to allowing our doctors to request time off and close their templates with one entry. We are extremely happy with our relationship and the support we receive."
– HR Manager / Medical Staffing Director, Healthcare Industry
"We are very happy we made the change from ADP. In my 25+ years of experience with implementations, our implementation with one point was the smoothest I've ever experienced. We pulled off our very first payroll with no issues – amazing! Our payroll is very complicated, with layered job costing for grants, admin and various medical organizations that we bill based on medical staff hours. Our staff, both in payroll/HR and in general is incredibly happy with the system and how user-friendly it is."
–HR Director, Non Profit Healthcare
I wanted to thank both you and your team for the excellent customer service you have provided. I am truly impressed by the knowledge of each and every OnePoint team member I have spoken to. I have never left a call without a resolution and everyone has been so patient while I've learned the system. Having customer service like this is very rare in this day and age. I am very grateful.
Payroll Manager – Healthcare Industry
Discover the power of a single
platform solution.
Contact our team about ideas to unify your workforce.
Fill out the form or call 866.938.5835 to see how our human capital management solutions can create an efficient, unified HR infrastructure for your organization.