All-in-one benefits administration technology that helps you serve your clients better

Provide a smoother enrollment experience for all your products including medical, dental, FSA, 401K, Voluntary Life
Accurately and quickly transmit data and updates to insurance carriers without manual/redundant processes
Empower client's employees to review, compare, enroll in or changing benefit plans through self-services
Use OnePoint to automate COBRA administration
Configure the OnePoint platform to meet the size and scope needs of every client you serve
Powerful Technology Supports The Partnership

OnePoint specializes in implementing custom configured HCM solutions for small and mid market clients. Companies of all sizes are interested in ways to automate and streamline their workforce management processes through integrated systems. We can deliver a scalable all-in-one HCM solution including HRIS, timekeeping, payroll and benefits together or as individual components. Our insurance broker partners trust OnePoint as their HCM Solution for three reasons:

Modern and fully scalable capable HCM platform to meet clients needs.
Commitment to customer service and long-term success and ROI
We don't sell insurance, are not a competitor and don't go after the Broker of Record.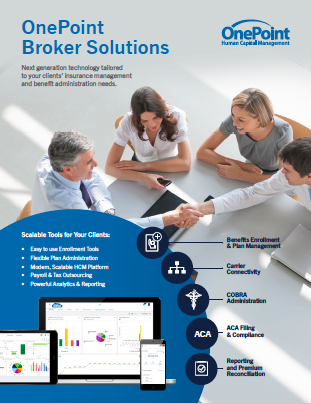 FEATURED RESOURCE
Benefits Administration
Simplify benefits administration and empower your employees by automating enrollment tasks and storing all your data in one place. Consolidate disparate systems and paper forms into one unified cloud-based infrastructure to see a complete set of HR and benefits data on each employee's record.
Download the Solution Guide
Open Enrollment Overview

Benefits Enrollment with OnePoint streamlines the enrollment process for your company and makes it easy for employees, eliminates paper forms and manual processes, and gets you back to the business of your business in no time.

Learn More

Benefits Administrations Preview Video

Having a benefits admin that is seamlessly connected with HR and on-boarding is a powerful tool to consolidate systems, boost efficiency, and streamline reporting, which then improves accuracy and reduces compliance risks.

Learn More

Carrier Connection List

OnePoint has established hundreds of carrier feeds to automate the transmission of enrollment data without the need for manual processes and stacks of paper forms. Learn more about carrier connectivity and review our 180and 360 degree connections.

Learn More
"As a small business, with all the laws and policies we must follow, the most evident ROI from implementing OnePoint is having all employee and payroll data in one place. We need a system like OnePoint to stay organized and set up the company for success. I know that we are far better off today than we were before we started using OnePoint."
–HR Director, Hospitality Industry
Read Case Study
"By automating clinician reporting we have eliminated 3,312 reports per year and approximately 500 hours of staff time preparing and consolidating reports for billing. This time savings represents $10,000 in gross wages saved, and lets our staff and clinicians put 500 hours more time to helping our clients and our community. I could not be more pleased."
—Accounting Manager, Non-Profit Industry
Read Case Study
"Switching from Paychex to OnePoint for our Payroll and HRIS needs was a great strategic decision. It is clearly a much better system. Having a positive working relationship with our HRIS/Payroll vendor is critical and right now we have the best!"
– HR Director, Healthcare Industry
Discover the power of a single
platform solution.
Contact our team about ideas to unify your workforce.
Fill out the form or call 866.938.5835 to see how our human capital management solutions can create an efficient, unified HR infrastructure for your organization.