Reduce Administrative Time & Costs

OnePoint recruitment simplifies the recruitment process to attract quality candidates efficiently. Automated tools and integrations simplify job posting to reach the right candidates where they are searching more efficiently. Create a job requisition and automatically post to a searchable job board widget embedded in your website. Enable workflows to post job opening to LinkedIn, thousands of free job sites and premium job boards easing the burden on recruiters and HR and reducing costs.

Seamless Job Board Integrations

Job board integrations make recruitment efforts more efficient and productive by eliminating the manual work required to post to multiple job boards. With our ATS your active jobs are analyzed and automatically posted to the most appropriate free job boards effortlessly. Our direct integrations with premium boards like InDeed and ZipRecruiter allow you to manage and sponsor jobs all within OnePoint. WE give you the tools to post jobs faster, boost your applicant pool and accelerate the best fit candidates to the interview process.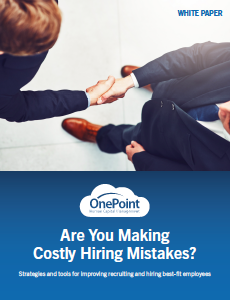 White paper: What's the Cost of a Bad Hire?
Are your internal processes set up to attract and onboard top talent?
Our white paper reviews the factors that affect hiring decisions and the tools that HR needs to effectively manage screening, hiring, applicant administration, and reporting, to avoid making poor hiring decisions — decisions that could impact your organization's ability to execute and its bottom line.
Applicant Self-Service

Today's applicants want to easily apply for jobs online and get status updates automatically. OnePoint recruitment provides a seamless application process, allowing candidates to apply for open positions in an online interface. Applicants create a profile, submit the required information and answer questions. Candidates can save their profile until it is ready to submit and automated notifications verify applications was received and provide updates at each stage of the process

Applicant Tracking Workflows & Notifications

Hiring managers have real-time data on qualified candidates to keep them engaged and moving through the hiring process. Set up dashboards and reports to track open requisitions and monitor qualified candidates progress. Initiate background checks directly through the system. Communicate application status with candidate via SMS Text. When it time to hire, simply convert the applicant profile to employee record and automated workflows kick off required forms and on-boarding checklist that can be completed via self-service.
Our Clients Are Impressed
"By automating clinician reporting we have eliminated 3,312 reports per year and approximately 500 hours of staff time preparing and consolidating reports for billing. This time savings represents $10,000 in gross wages saved, and lets our staff and clinicians put 500 hours more time to helping our clients and our community. I could not be more pleased."
—Accounting Manager, Non-Profit Industry
Read Case Study
"I love this HR solution and the entire OnePoint team. You have no idea how this system has changed the way I do my job. I think I'm OnePoint's biggest fan!"
–Human Resources Manager, Auto Dealership
"We use OnePoint for our onboarding process and I love how much time I have saved on the process. I also love that I can download the documents from the employee file. Thank you so much for creating a system that is user-friendly and so easy to navigate."
–Human Resources Manager, Non Profit Organization
"I am really loving the OnePoint system and am so pleased with the customer service. The staff is knowledgeable, quick and extremely helpful."
– HR Manager, Property Management Company
"Moving our employee credential tracking out of a spreadsheet has saved my team countless hours and reduced my anxiety about compliance."
—Executive Director, Healthcare Industry
Discover the power of a single
platform solution.
Contact our team about ideas to improve your recruitment and applicant tracking capabilities within our unified HCM platform.
Fill out the form or call 866.938.5835 to see how our human capital management solutions can create an efficient, unified HR infrastructure for your organization.