Optimize workforce performance with a unified hcm system

Build accurate schedules faster, automate time card management and experience fewer payroll errors
Save money and track actual labor costs by automatically enforcing flexible, user-defined pay rules
Configure flexible rules and real-time pay calculations to track variable pay rates and piece rate pay while simultaneously satisfying all minimum wage and overtime requirements.
Use mobile app tools to enable managers and remote employees to complete common workforce management tasks—from anywhere, at any time
Achieve fairness, consistency and compliance by centralizing policy management
Reduce your exposure to wage and hour violations and meal and rest break penalties with flexible attestation tools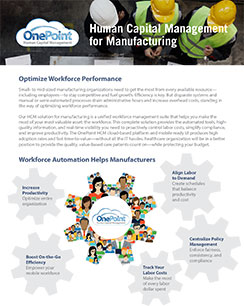 FEATURED RESOURCE
Manufacturing solutions guide
Our HCM system for manufacturing is a unified workforce management suite that helps you make the most of your most valuable asset: the workforce. This complete solution provides the automated tools, high quality information, and real-time visibility you need to proactively control labor costs, simplify compliance, and improve productivity. The OnePoint HCM cloud-based platform and mobile ready UI produces high adoption rates and fast time-to value—without all the IT hassles. healthcare organization will be in a better position to provide the quality, value-based care patients count on—while protecting your budget.
DOWNLOAD
Simplify Wage and Hour Compliance

OnePoint HCM solution provides a single, unified database that allows employers to automate workforce management processes and centralize wage and hour policy administration creating efficiency that save countless administrative hours and generate positive ROI.

Learn More

Workforce Development & Retention Report

This paper will discuss how technology delivers data-driven insights and a standardized approach to help organizations nurture and develop a capable and engaged, multigenerational workforce more effectively, and in turn improve overall performance.

Learn More

Engaging The Hourly Workforce

Our ebook reviews the distinct needs of hourly employees and how our OnePoint HCM solution provides flexible and mobile-ready HCM solutions. This will empower hourly workers get to work, be productive, engage with an organization, and ultimately succeed.

Learn More
"We use OnePoint for our onboarding process and I love how much time I have saved on the process. I also love that I can download the documents from the employee file. Thank you so much for creating a system that is user-friendly and so easy to navigate."
–Human Resources Manager, Non Profit Organization
"As a small business, with all the laws and policies we must follow, the most evident ROI from implementing OnePoint is having all employee and payroll data in one place. We need a system like OnePoint to stay organized and set up the company for success. I know that we are far better off today than we were before we started using OnePoint."
–HR Director, Hospitality Industry
Read Case Study
"By automating clinician reporting we have eliminated 3,312 reports per year and approximately 500 hours of staff time preparing and consolidating reports for billing. This time savings represents $10,000 in gross wages saved, and lets our staff and clinicians put 500 hours more time to helping our clients and our community. I could not be more pleased."
—Accounting Manager, Non-Profit Industry
Unify Your Workforce Today!
Discover the power of a single
platform solution.
Contact our team about ideas to unify your workforce.
Fill out the form or call 866.938.5835 to see how our human capital management solutions can create an efficient, unified HR infrastructure for your organization.