A powerful reporting solution delivering real-time analytics for better decisions and compliance

OnePoint's unified data architecture delivers 150 standard reports across HR, Timekeeping, and Payroll, Benefits and compliance to provide real-time visibility into key workforce trends and insights to make better decisions for your business. Customize any standard reports using the built-in, reporting tools to gain specific insights important to your business. Dynamic data visualization features turn reports into a chart and dashboards to stay on top of key metrics and important analytics.
Federal Compliance Reports in a click

Cut down on the time your HR department spends gathering data from multiple systems with out of the box federal required compliance reports ready in the click of a button. These standard templates can be edited and formatted for your business needs and can be exported for new electronic submission requirements.

OSHA 300 & 300A
Vets-100 – Veterans (Summary)
ACA Compliance – ACA Data Detailed
EEO Classification (EE0-1 Summary)
401(k) Form 5500

Wage and Hour Reports

Staying on top of compliance is difficult without the right visibility into your employees activities. There are so many potential pitfalls that need to be monitored to avoid wage and hour violations. Access dozens of real-time reports to proactively monitor and manage exceptions on the manager self-service dashboards.

Early/Late/Absence report
Exceptions Summary by Week
Detailed Hours Overview
Employee Overtime Request Summary
Unprocessed Punches

HR Compliance Reports

HR has so many reporting responsibilities across the organization that using different systems or manual processes makes it impossible to keep up. Administrators have access to hundreds of reports and employee views to keep track of important compliance requirements in one place. Checklist and dashboards help track and monitor statuses, communication and activities. Auto-notifications help alert employees and administrators of issues in real-time

Advanced Data Analytics

Our all-in-one HCM platform is built on one database unifying all your HR, timekeeping, payroll, and benefits data in one place. Our reporting engine can access any fields giving full access to real-time data across the entire application. Any standard or custom report can be converted into interactive charts and saved to dashboards. Use the analytics dashboards to monitor real-time workforce metrics and drill into the reports on any device.

Compliance Audits

Our unified system maintains collective data across the entire platform making data auditing and historical review mush less time intensive if an issue or claim is filed. Additional compliance features like employee attestation surveys capture data at the shift level, any exception or override by a supervisor or manager is logged with their signature and date stamp to more easily track and identify potential compliance issues.

Remote Device Access
Swipe Summary
Attestation
Employee Schedule Entries
Extra Pay Entries or Counter Adjustment
Time Adjustment Entries
Our Clients Are Impressed

"So happy to have made the switch from ADP to OnePoint. They all truly excel in customer service. Everything is really easy to navigate and help is a phone call away. Working with OnePoint just gets better and better each year."
–Owner, Veterinary Hospital & Clinic
"Moving our employee credential tracking out of a spreadsheet has saved my team countless hours and reduced my anxiety about compliance."
—Executive Director, Healthcare Industry
"Being a federally qualified healthcare facility, we need to run numerous reports, and the OnePoint system makes it very easy. I especially like the quality customer service we get when questions do come up – knowledgeable staff and no long wait times. The system allows us to do almost everything we've asked, from customizing managers, to cost coding labor to each site, to allowing our doctors to request time off and close their templates with one entry. We are extremely happy with our relationship and the support we receive."
– HR Manager / Medical Staffing Director, Healthcare Industry
Featured Resource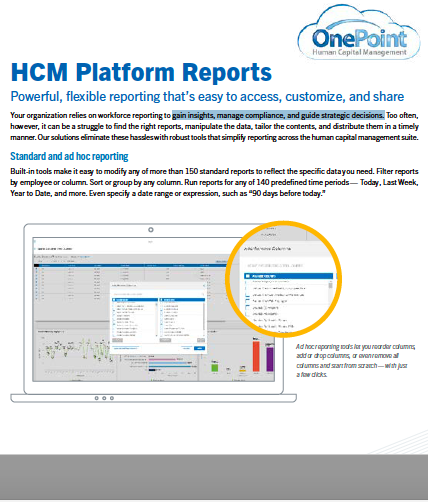 OnePoint HCM Reporting & Data Visualization
Harness our unifed HCM solution to access real-time data and dynamic data dashboards that give HR, managers and employees the information they need to gain insights, manage compliance, and guide strategic decisions.
Discover the power of a single
platform solution.
Whether you are considering our services or are already a OnePoint client, contact us today. We'll discuss your current human capital management processes and show you how a unified solution can maximize your HCM efficiency and improve your bottom line.