COBRA Administration, Simplified

HR Professionals know the challenges involved with COBRA administration. Between the intricacies of compliance to the evolving regulations set forth at the state level, managing COBRA can be a time consuming and costly endeavor. If not handled appropriately and accurately, companies stand to incur penalties that can add up each day your business is in violation of the law.
ONEPOINT SOLVES YOUR TOUGHEST CHALLENGES OF COBRA ADMINISTRATION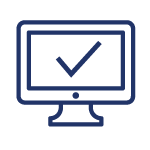 Rapid Approval
Approving or rejecting a qualifying event in as little as two clicks. Review and approve any beneficiary's qualifying event for more effective administration of COBRA coverage.
Automated Communication
Send all required communications and notices on time. Track through the USPS, review initial and qualifying events, and see virtually everything audited within the system through standard reports.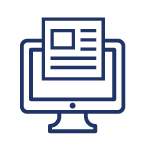 Automated Notifications
Accurate and in real-time, automatically track qualifying events and eligibility to ensure timeline completion of all required tasks.
How OnePoint Can Help

Full Service COBRA Administration

Reduce Risk of Noncompliance
Deeper Insight and Complete Transparency into COBRA
Powerful Reports & Tracking
Streamlined Communication
Faster, More Accurate Processing
Our Clients Are Impressed

"The process of implementing the OnePoint solution has been much smoother than I imagined. The amount of positive change and time saved is well beyond my expectations. The stress reduction of meeting the contractual deadlines for billing contracts is an immeasurable savings – so very important to our growing agency. Then, of course, the stress reduction on the accounting department–ME–is unbelievable. I could not be more pleased."
–Accounting Manager, Non Profit, Southern California
Read Case Study
"As a small business, with all the laws and policies we must follow, the most evident ROI from implementing OnePoint is having all employee and payroll data in one place. We need a system like OnePoint to stay organized and set up the company for success. I know that we are far better off today than we were before we started using OnePoint."
–HR Director, Hospitality Industry
Read Case Study
"We are very happy we made the change from ADP. In my 25+ years of experience with implementations, our implementation with one point was the smoothest I've ever experienced. We pulled off our very first payroll with no issues – amazing! Our payroll is very complicated, with layered job costing for grants, admin and various medical organizations that we bill based on medical staff hours. Our staff, both in payroll/HR and in general is incredibly happy with the system and how user-friendly it is."
–HR Director, Non Profit Healthcare
Featured Resource
Reduce COBRA Compliance Risk
Automate COBRA Administration to meet all communication and compliance requirements.
OnePoint HCM provides an all-inclusive service that handles virtually all aspects of COBRA administration, which integrates with 100+ providers of HR, payroll, and benefits solutions!
Discover the power of a single
platform solution.
Whether you are considering our services or are already a OnePoint client, contact us today. We'll discuss your current human capital management processes and show you how a unified solution can maximize your HCM efficiency and improve your bottom line.