Reinventing HCM:
Discover Human CONNECTION Management. Unify your data, people and business systems into ONE workplace infrastructure.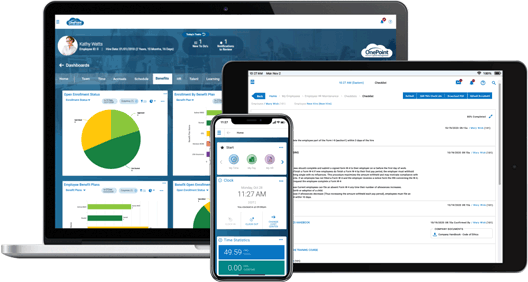 Put HCM to work for your organization
Imagine a day when you can…
Our Clients Are Impressed
"By automating clinician reporting we have eliminated 3,312 reports per year and approximately 500 hours of staff time preparing and consolidating reports for billing. This time savings represents $10,000 in gross wages saved, and lets our staff and clinicians put 500 hours more time to helping our clients and our community. I could not be more pleased."
—Accounting Manager, Non-Profit Industry
Read Case Study

"I love this HR solution and the entire OnePoint team. You have no idea how this system has changed the way I do my job. I think I'm OnePoint's biggest fan!"
–Human Resources Manager, Auto Dealership
"We use OnePoint for our onboarding process and I love how much time I have saved on the process. I also love that I can download the documents from the employee file. Thank you so much for creating a system that is user-friendly and so easy to navigate."
–Human Resources Manager, Non Profit Organization

"So happy to have made the switch from ADP to OnePoint. They all truly excel in customer service. Everything is really easy to navigate and help is a phone call away. Working with OnePoint just gets better and better each year."
–Owner, Veterinary Hospital & Clinic
"I am really loving the OnePoint system and am so pleased with the customer service. The staff is knowledgeable, quick and extremely helpful."
– HR Manager, Property Management Company
"We are very happy we made the change from ADP. In my 25+ years of experience with implementations, our implementation with one point was the smoothest I've ever experienced. We pulled off our very first payroll with no issues – amazing! Our payroll is very complicated, with layered job costing for grants, admin and various medical organizations that we bill based on medical staff hours. Our staff, both in payroll/HR and in general is incredibly happy with the system and how user-friendly it is."
–HR Director, Non Profit Healthcare
"I love the entire OnePoint HCM system and reporting capabilities, but I especially love my customer service team. We use many of the OnePoint modules and we're particularly happy with how the Performance module was configured."
–Human Resources Manager, Advertising Industry
"Being a federally qualified healthcare facility, we need to run numerous reports, and the OnePoint system makes it very easy. I especially like the quality customer service we get when questions do come up – knowledgeable staff and no long wait times. The system allows us to do almost everything we've asked, from customizing managers, to cost coding labor to each site, to allowing our doctors to request time off and close their templates with one entry. We are extremely happy with our relationship and the support we receive."
– HR Manager / Medical Staffing Director, Healthcare Industry
"Switching from Paychex to OnePoint for our Payroll and HRIS needs was a great strategic decision. It is clearly a much better system. Having a positive working relationship with our HRIS/Payroll vendor is critical and right now we have the best!"
– HR Director, Healthcare Industry
"Moving our employee credential tracking out of a spreadsheet has saved my team countless hours and reduced my anxiety about compliance."
—Executive Director, Healthcare Industry
"As a small business, with all the laws and policies we must follow, the most evident ROI from implementing OnePoint is having all employee and payroll data in one place. We need a system like OnePoint to stay organized and set up the company for success. I know that we are far better off today than we were before we started using OnePoint."
–HR Director, Hospitality Industry
Read Case Study

"The process of implementing the OnePoint solution has been much smoother than I imagined. The amount of positive change and time saved is well beyond my expectations. The stress reduction of meeting the contractual deadlines for billing contracts is an immeasurable savings – so very important to our growing agency. Then, of course, the stress reduction on the accounting department–ME–is unbelievable. I could not be more pleased."
–Accounting Manager, Non Profit, Southern California
Read Case Study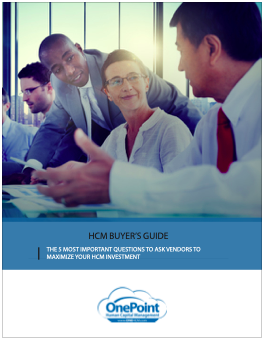 OnePoint HCM Buyers Guide
Learn the 5 questions you need to ask every HCM vendor to maximize your investment
Not all HCM technology is created equal. But with so many options in the market, selecting a new HR solution can be a daunting task. This buyers guide arms HR leaders with five simple questions to help choose a strategic HCM partner capable of delivering long-term value.
Get the Guide
Contact our team about ideas to unify your workforce.
Fill out the form or call 866.938.5835 to see how our human capital management solutions can create an efficient, unified HR infrastructure for your organization.