Manage paid sick leave compliance with configurable accrual rules

The versatile rules engine powering OnePoint's Accruals solution accurately tracks sick leave accruals, rollovers and caps to meet local paid sick leave compliance laws.

Minimize compliance risk by configuring accrual calculations for multiple groups with varying accrual rules. Give employees in different leave groups real-time visibility to see the amount of sick leave to meet local laws without creating extra work for HR.
Configure Your Paid Sick Leave Accruals to Comply With Local Laws
Customize Accrual Policies
Define and assign custom accrual policies for employees who may be governed by different local law or requirements. Create as many different policies as you need. Create custom reports to track and identify employees who are approaching accrual limits or balance caps.
Carry Over & Usage Limits
Set limits on how many hours an employee can carry over into a new Accrual Year. If allowed by local laws, set limits how many Paid Sick Leave hours an employee take within a calendar year even if they have more in their balance (i.e. California paid sick leave laws)
Annual Balance Caps
Limit the maximum balance an employee can accumulate in Paid Sick Leave at any given time within the year. Employee must use their balance before accruing additional time. Different Accrual Policies can have different balance caps.
End-to-end Employee Leaves of Absence Management

Our Advanced Leave management capabilities give Administrators the ability to:

Allow employees to initiate leave requests and trigger the HR interview
Centralize and automate rules, policies and leave entitlements calculations
Gain full transparency on all leave of absences, types, and statuses
Retain documentation, certifications, doctor's notes
Track deadlines and meet all communication requirements more easily
Our Clients Are Impressed

"I love this HR solution and the entire OnePoint team. You have no idea how this system has changed the way I do my job. I think I'm OnePoint's biggest fan!"
–Human Resources Manager, Auto Dealership
"We use OnePoint for our onboarding process and I love how much time I have saved on the process. I also love that I can download the documents from the employee file. Thank you so much for creating a system that is user-friendly and so easy to navigate."
–Human Resources Manager, Non Profit Organization

"So happy to have made the switch from ADP to OnePoint. They all truly excel in customer service. Everything is really easy to navigate and help is a phone call away. Working with OnePoint just gets better and better each year."
–Owner, Veterinary Hospital & Clinic
Featured Resource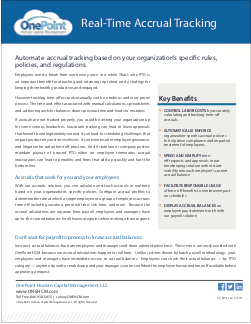 One flexible accruals engine reduces the runaround of sick leave compliance management
Define & assign custom accrual policies for staff at various levels or locations
Track and identify employees who are approaching accrual limits or balance caps
Set limits on how many hours can be carried over into a new accrual year
Set limits on sick leave hours within a calendar year, as defined by local laws
Limit accumulated sick leave balance maximums throughout the year
Create different accrual policies with various balance caps
Discover the power of a single
platform solution.
Whether you are considering our services or are already a OnePoint client, contact us today. We'll discuss your current human capital management processes and show you how a unified solution can maximize your HCM efficiency and improve your bottom line