Empower your employees with real-time mobile HCM Solutions and HR tools
Create and manage schedules, conduct payroll runs, generate custom reports and connect to your employees—all from the palm of your hand. OnePoint's cloud-based, enterprise-class HCM software requires no mainframe, no dedicated servers, no special software installs and no manual updates. Eliminate weekend and after-hours office runs by accessing all your mobile workforce management and HR tools from wherever you are.
Discover A Reimagined User Experience
Work smarter on any device
Engage Employees

with a fully responsive user interface on any device

Boost Productivity

With easy-to-use mobile solutions

Empower Self Service

To take care of HR tasks when they need to

Deliver A Modern Experience

With an intuitive, secure HCM platform
Empower & Engage Employees

Robust self service provides employees and managers access to the full HCM platform via tablet or mobile phone. Improve communication and deliver a modern employee experience on any device. Employees can manage simple and complex tasks and updates on the go. Managers can approve time sheets, time off requests and see who is on or off shift. Employees have instant access to view schedules, request leave, access pay statements and more.

Responsive User Interface

Empower your employees with a mobile ready HCM platform that gives them access to critical data, no matter their device preference. Log in to your OnePoint account on any tablet or handheld device to access robust self-service features when you need it.

Real-Time Updates

A dynamic, single database means that our full platform is easy-to-use on any device. All information is available in real time, so you never need to wait for batch processes or for a separate app to be synched. Mobile workforce management tools ensure that you have access to accurate, up-to-the-minute information, 24/7.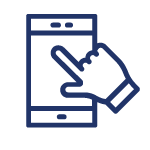 The Rise of the Mobile Employee Experience
Mobility and instant access to information matters to today's employees. Learn how our new mobile experience delivers a modern, self-service experience that puts the full HCM platform in the palm of your hand. Empower employees and managers to handle tasks, access information and communicate on any device.
Manager Self Service

Managers have full visibility into their teams to see workforce trends and stay on top of issues.

Approve time sheets
See who is in/out
Approve leave requests
View employee lists
View employee pay statements
View employee checklists
View employee information

Employee Self Service

Empower employees to take care of routine HR tasks and actions on their own time.

Punch in/out
View accrual balances & request time off
Review pay statements and tax deductions
Complete & submit timesheets
View schedule, manage open shifts/swaps
Update Employee record and direct deposit information
Employee onboarding checklists
Benefits Enrollment and qualifying events
Our Clients Are Impressed
"By automating clinician reporting we have eliminated 3,312 reports per year and approximately 500 hours of staff time preparing and consolidating reports for billing. This time savings represents $10,000 in gross wages saved, and lets our staff and clinicians put 500 hours more time to helping our clients and our community. I could not be more pleased."
—Accounting Manager, Non-Profit Industry
Read Case Study
"We are very happy we made the change from ADP. In my 25+ years of experience with implementations, our implementation with one point was the smoothest I've ever experienced. We pulled off our very first payroll with no issues – amazing! Our payroll is very complicated, with layered job costing for grants, admin and various medical organizations that we bill based on medical staff hours. Our staff, both in payroll/HR and in general is incredibly happy with the system and how user-friendly it is."
–HR Director, Non Profit Healthcare

"I love this HR solution and the entire OnePoint team. You have no idea how this system has changed the way I do my job. I think I'm OnePoint's biggest fan!"
–Human Resources Manager, Auto Dealership
Discover the power of a single
platform solution.
Whether you are considering our services or are already a OnePoint client, contact us today. We'll discuss your current human capital management processes and show you how a unified solution can maximize your HCM efficiency and improve your bottom line.